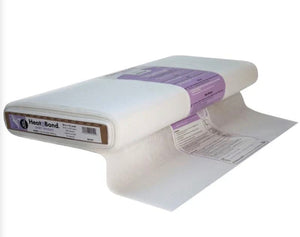 Shirt Weight Non-Woven Fusible, 20 in by meter )مثبت للقماش عرض 20 انش يباع بالمتر
HeatnBond Shirt Weight Non-Woven Fusible Interfacing will add stability and structure to your fabric. This product is perfect for cuffs, collars, button holes, zippers, plackets, masks, costumes and jacket construction. With a non-woven interfacing you can rest assured there will be minimal shrinkage. Additionally, there is no grain line which means you can cut it and apply it in any direction. Shirt weight interfacing works great on a range of fabrics. A few examples of your typical shirt fabrics would include poplin, oxford and pinpoint.       
HeatnBond Fusible Interfacing products have an adhesive application on one side. Ironing it directly onto the fabric eliminates the need for basting and pinning. Constructing a garment or any other project using a fusible interfacing is much easier because it will not shift about. 
Product Details
| | | |
| --- | --- | --- |
| Width | | : 20 inch |
| Construction | | : Saturate Non-Woven |
| Content | | : Polyester + Rayon |
| Type | | : Fusible |
| Color | | : White |
| Laundering | | : Machine Washable/Dryable |
| Country | | : Made in the USA |
---
We Also Recommend
---